You are here: Printing

Hardback Book Printing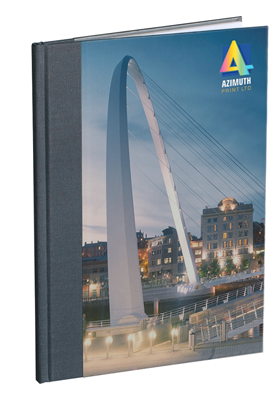 Our hardback books are printed on eco-friendly paper from sustainable sources.
Our prices include FREE delivery within 12 working days to one UK address excluding Highland and Islands and there is no charge for debit or credit cards. For deliveries to Highland and Islands please call for a price that includes delivery to these locations.
If you need your hardback book printing sooner, contact us to discuss a quicker delivery time.
What can printed hardback books do for me?
There is nothing as exciting as seeing your work in print for the very first time, why not spend a little more and have some or all of your books with hard covers. Azimuth Print offers top quality cheap book printing services for authors and publishers looking to produce beautiful, yet affordable hardback books.

Hardback books will give your project a very high-quality, professional look and feel. Aspiring authors can also make use of our books to produce the first run of their latest novel to send to publishers in a hope of becoming a published author. Our hardback books give a coffe table style book finish so as to impress friends and family.
Azimuth Print, the premier hardback book printer
Azimuth Print, the UK's premier hardback book printer offers a fast, high-quality hardback book printing service.

Our hardback books come in three sizes, all have gloss lamination to the cover and the text pages are on a high quality paper. We offer three sizes, A6, A5, and A4 in portrait and landscape (excluding A4). Other bespoke sizes can also be produced.

Hardback hardcover, or hardbound is a book with rigid, stiff protective covers. Our hardcover books have glued spine, just like our perfect bound books.
They are printed on 100gsm Multicopy, and are much more durable than perfect bound books. Our hardcover books are priced to be attractive to writers and publishers who wish to show their work in the best possible format.

You can even order only one book if you would like to see your hard work put into print!
Read our article about print on demand and self publishing: Self Publishing a book is easy!

Other quantities and paper weights also available on request.
Hardback book Design
Our skilled sales team and designers are always responsive to your needs and can help you with design, layout, paper choice, font selection and more. We can fine tune your designs or offer you a custom made solution tailored exactly to your needs.

You can either send us your own artwork or commission our designers to come up with a great look for your printed books for an extra charge. If you need to make small changes to your copy and design, we can take care of these at no extra cost, while larger amendments to your hardback book can also be made for a fee.

Azimuth Print provide template PDF files to help you create your artwork. Our Artwork Templates page allows you to download these templates FREE.

PDF files should be supplied in the correct size (A6, A5 or A4). The inside pages should be supplied as 1 PDF in single pages in the running order you require. All fonts MUST be embedded.

When designing the cover please allow at least 15mm of bleed beyond the trim size, please call us for the spine width when you know how many pages your book will contain.

To find out more about the UK's premier hardback book printer, just get in touch for a quote or for answers to any questions you might have about our hardcover book printing services.
Azimuth Print has an average service rating of 4.9/5 based on 447 customer reviews independently verified by eKomi.