Self Publishing a book is easy
Writing a book takes lots of hard work and time, but to publish it is lot easier thanks to Print on Demand at Azimuth Print. There are many publishing companies who can help you to publish your book, but if you just self publish you can keep 100% of the sales profits. If you print your book with us the final result will be stunning whether you choose one of our various styles of printed books including perfect bound, wire bound or hardback books.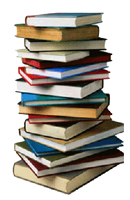 Our book prices start from
£32 for a single perfect bound book
£38 for a single wire bound book
£66 for a single hardback book

You can order a FREE perfect bound book sample and see for yourself the quality of Azimuth Prints work!
We can provide perfect bound books, wire bound books and hardback books in A4, A5 or A6 size, in an orientation of either portrait or landscape. As standard we use high-quality 300gsm gloss art paper for covers and your inner pages can be printed in full colour or black-and-white on 100gsm multi-copy paper. Other paper types, quantities and sizes available on request. You can select from full colour matt or gloss covers. You can choose the cover to be laminated for greater protection if you wish.
Before you send your work to us make sure it is complete, well-edited, and thoroughly proofread. If you would like to market your books and put them on the bookshelves of book shops, you should get an ISBN number. We are able to help you through these processes. Our designers are ready to create a beautiful cover for your books if you have not done it yet.
Now, with the introduction of digital printing, it is possible to literally have just one copy of a book printed at a very reasonable cost. There are no printing plates involved, no conventional printing presses and no need for minimum runs of thousands of copies. We allow the printing of single books at per-book costs not much higher than those paid by publishing companies for large print runs.
After we have printed your book you will need to distribute it yourself or we can help you with the distribution process. If you distribute your books yourself you will need to contact book shops about stocking your book. You may need to visit each book shop individually, and handle any mail orders on your own. Some book shops will accept a limited number of your books on a sale or return basis, so if they sell, you get paid but if they do not then you will need to collect them at a later date.
If you want to sell your book beyond your family and friends, you will need to market yourself and it is very wise to consider how are you going to do that before you self-publish. New developments in social media mean that it is now much easier to be your own marketing department. We can also offer a range of printed leaflets and flyers that you can use to promote your self-published book.
ISBN numbers can be obtained from here: http://www.isbn.nielsenbook.co.uk/
You can download FREE book templates from our Templates page, these templates are DOT (Microsoft Template) files only and they do not include the cover.
If you have further question or you need help with self-publishing please feel free to call us on 01454 319676 or e-mail us sales@azimuthprint.co.uk!
Published: 7th April 2014
News Category: Book Printing News
Other news from this category:
Free Matt Lamination & Foil Varnish on Perfect Bound Books
Seven Steps to writing your book
What is a Book?
Azimuth Print produces its largest perfect bound book to date
Amateur photographers showcase their work