The Azimuth Print price pledge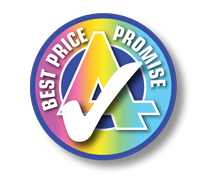 Azimuth Print brings you the best in quality and service whilst delivering extremely competitive prices.

If you feel that you can get better value then please tell us about it. We will then try to match or beat what you have been quoted.
Perhaps you have a job that is not on our price list?
Maybe you sell higher or lower numbers of a particular product?
Or perhaps you have found a lower price elsewhere compared to our price list?
If so fill in the provided form and we will contact you.
We will then look at the price and product and see if we can give you better value for money.

This is our price pledge.

Subject to sight of written quotation, or web link, from a UK registered company. Excludes any promotional prices. Subject to like for like comparison of product specifications including production times.
Latest Testimonials
Date:
Sunday, 22nd July 2018
From:
John Peck
Always consistently high quality printing of text with good rendition go colour images. Speedy service at a good price from a U.K. based company. Helpful advice when requested and constant attention to detail. I have used before and will use again.

Date:
Friday, 29th June 2018
From:
Howard Jones
Swift and efficient. Good customer service.

Date:
Sunday, 3rd June 2018
From:
John Casey
Been dealing with Azimuth for years and always helpful and excellent service.Would highly recommend.