The Azimuth Print price pledge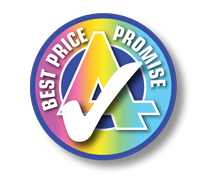 Azimuth Print brings you the best in quality and service whilst delivering extremely competitive prices.

If you feel that you can get better value then please tell us about it. We will then try to match or beat what you have been quoted.
Perhaps you have a job that is not on our price list?
Maybe you sell higher or lower numbers of a particular product?
Or perhaps you have found a lower price elsewhere compared to our price list?
If so fill in the provided form and we will contact you.
We will then look at the price and product and see if we can give you better value for money.

This is our price pledge.

Subject to sight of written quotation, or web link, from a UK registered company. Excludes any promotional prices. Subject to like for like comparison of product specifications including production times.
Latest Testimonials
Date:
Friday, 9th February 2018
From:
Barry Supple
Azimuth were prompt and precise in their estimates and costings; efficient and informative in specifying their needs from an author; speedy in producing the final printed product; and precise and professionally accurate in completing the jobs.

Date:
Friday, 19th January 2018
From:
Moira Stanton
We have been using Azimuth Printers for some years now. Their service is unfailingly good, they are always courteous and helpful. If an error is made, they rectify it immediately. I recommend them wholeheartedly.

Date:
Thursday, 18th January 2018
From:
Stephanie Ryland
Firstly, the website was straight-forward and easy to use - the best I have tried. Then the service was fast, straight-forward and efficient. Just what I wanted. Only one thing wrong - which may well have been my own fault - the book came back in paperback instead of hardback. I'll remember next time to make sure. But altogether I am very pleased with the service and shall be using them next time.