The UK's premier online printer
Azimuth Print provide economical print solutions for all of your marketing and communications requirements. We are the rare "one stop shop" with the expertise to fulfil all of your printing needs.

We are offering a professional full colour printing service to busy people who want the speed and convenience of ordering print online but who still want the option to speak to a knowledgeable member of staff on the phone or in person.

Azimuth Print are a family run printing company established in 1989. We are proud to work with a wide range of happy customers throughout the UK.

We train our staff to be enthusiastic, professional and we regard customer service as a top priority. Whether you need help to design and print your first set of business stationery or are looking for new ideas on how better to promote your existing business, we are here to help! Our talented team of experienced designers and marketeers will bring your ideas and concepts to 'life'.

Our in house design team, consistently produce stunning artwork and designs, and are on hand to provide a bespoke design and print service. Furthermore, unlike some printers which advertise in the UK area who do their printing abroad and outsource their finishing needs; Azimuth Print carries out all of its printing at its state-of-the-art, eco-friendly Bristol headquarters. This means that you can be assured of fast turnaround times, and diligent support throughout. So if you are looking for the best printing company, then you will find us extremely suited to your requirements.

Our company has 34 years of experience in handling highly complex printing jobs. We are equally at home, catering for the needs of small businesses and individuals who have low volume printing requirements. Our testimonials highlight the wide spectrum of customers with varying needs and specifications, who have been delighted with our work. Furthermore our prices are highly competitive, meaning that you can save a lot by using our high quality design and print services. For instance, our presses can each produce over 15,000 impressions per hour, which drastically cuts down the time taken to finish complex jobs. Instead of taking weeks, we can finish your jobs within a couple of days, or if you are really pushed for time we can also offer a 12 hour printing service! When you come to us, you can be confident that you have come to the right printer.
Why Use Us?
Here's why Azimuth Print will save you money...
Quality

As you would expect from Heidelberg presses the quality is superb. Computer-to-Plate technology produces superb first generation reproduction as all plates are imaged at fine screen rulings.

Speed

At 15,000 impressions an hour, it takes hours not days for the job to be completed. Find out exactly how long on each product page.

Cost

With the most cost effective print technology available, the savings to you are considerable.

Flexibility

Run lengths from 1 to 500,000, sheet sizes from A6 to B3, material weights from 60gsm to 350gsm on coated stocks. There is nothing more versatile.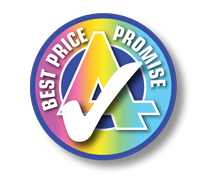 Some of our clients: