You are here: Printing

Wedding Booklet Printing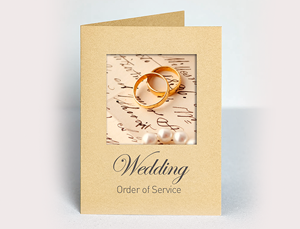 WEDDING BOOKLET PRINTING
A5 Colour Wedding Booklets
Materials: A5 4 page: 250gsm Matt; A5 8 page: 130gsm Matt Inner Pages/250gsm Matt Cover
Finishing: Fold/Stitch/Trim
FREE delivery within: 4 days
Description: Our booklet printing service gives you 4 paged wedding booklets printed in full colour or 8 paged wedding booklets printed with a full colour cover and with black and white inner pages.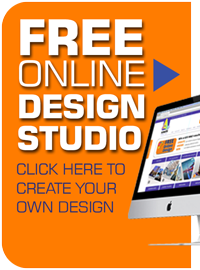 ---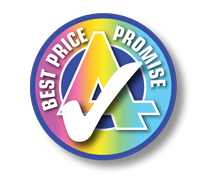 Our wedding booklets are printed on eco-friendly paper from sustainable sources.
Our prices include FREE delivery within 4 working days to one UK address excluding Highland and Islands and there is no charge for debit or credit cards. For deliveries to Highland and Islands please call for a price that includes delivery to these locations.
If you need your wedding booklet printing sooner, contact us to discuss a quicker delivery time.

Order FREE samples without any risk and see for yourself the quality of our products!
Azimuth Print, the premier wedding booklet printer
Azimuth Print, the UK's premier wedding booklet printer offers a high-quality fast wedding booklet printing service.

All A5 4 page wedding booklets are printed on 250gsm Matt board. They are scored and supplied folded ready to use. All pages can be printed in full colour.

All A5 8 page wedding booklets are printed with the cover on 250gsm Matt board, and the inside 4 pages on 130gsm Matt paper. The cover, inside front cover, inside back cover, back over are printed in colour and the other four pages in black. They are stitched and supplied ready to use.

Our wedding booklets are used for Church Services, Masses, Civil Partnerships and Civil Ceremonies. They are also perfect for use as an Order of Service.

Other weights and finishes available on request.

We provide a free online wedding booklet design service. If you do not have print ready artwork and you would like to create your own wedding booklet design, try our Online Design Studio. You can create your artwork from scratch or you can select one of more than a thousand wedding booklet templates. Our Online Design Studio is easy to use and it is FREE!
Wedding Booklet Design
All wedding booklet prices include artwork, all you have to do is supply up to four pictures as digital files or printed copies and the running order as a Word document, names of hymns, poems and prayers is normally sufficient as we can provide them from our library.

Azimuth Print provide template PDF files to help you create your artwork. Our Artwork Templates page allows you to download these templates FREE.

To find out more about the UK's premier wedding booklet printer, just get in touch for a quote or for answers to any questions you might have about our wedding booklet printing services.

Latest Testimonials
Date:
Saturday, 6th May 2017
From:
The GREEN Team Canterbury
Absolutely excellent!! We're an unfunded not for profit small at the moment team trying to prevent perfectly good items from ending up in landfill when off campus students depart/relocate in our University city of Canterbury in Kent. We looked high and low and couldn't find anyone else doing the individually cut A6 stickers we wanted ...for students to whack on their boxed and bagged up stuff for us to collect....at a price we could afford. We'd just about given up and were thinking what the heck to do now when we found Azimuth who not only did the stickers we wanted but also are an award winning company,whose price included full colour, gloss, and free delivery too. But the best part was that they are a GREEN company based in Bristol UK which ethically gave us a real feel good factor. Mike from Azimuth was very helpful and patient too, as we're better at recycling than tech stuff like resolutions! The delivery was very quick and when we saw the stickers we were thrilled with them. They were exactly as we designed them (we had worried they wouldn't print up as they looked on the computer, what with our inexperience and all). Azimuth, you are BRILL and deserve more stars than were available. Thank you so much. We meant to write and personally thank you but have been so snowed under with the project. We're really glad to have been given the opportunity to review you. All the very best

Date:
Saturday, 6th May 2017
From:
Kathrin Stauffer
I am extremely happy with the service I have received for many years now from Azimuth. Couldn't ask for better, and I keep recommending them to others when there is an opportunity!

Latest Booklet and Brochure Printing News
Published:
14th Jun 2015
Category:
Booklet and Brochure Printing News
A Germany-based global provider of specialty pharmaceutical labeling solutions, Schreiner MediPharm, has been recognized with a World Label Award 2014 for its Pharma-Tac Plus hanging label.
Continue...
Read more 'Booklet and Brochure Printing News'
Azimuth Print has an average service rating of 4.9/5 based on 359 customer reviews independently verified by
eKomi
.